BVF invited to speak on "South-South Exchange on Youth Volunteering for SDGs" Conference
Date:2017-06-27 Visitors:7798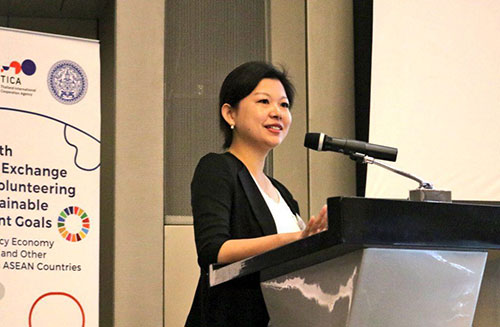 Ms. Liu NIAN, Head Delegate was delivering a speech
Meeting with UNV representatives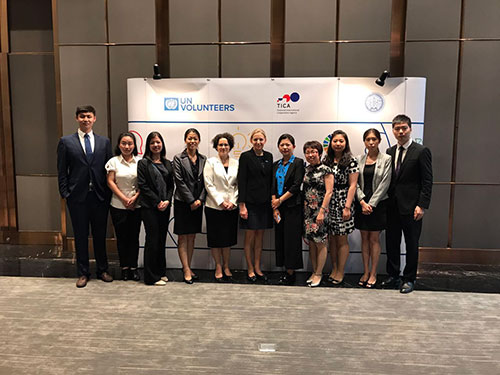 Group Photo with UNV representatives
  On June 20-23, the Conference of "South-South Exchange on Youth Volunteering for SDGs", organized by the United Nations Volunteers programme(UNV) and the Thailand International Cooperation Agency (TICA), was held at Bangkok, Thailand, the United Nations Asia-Pacific Headquarter. More than 200 representatives from governments, social organizations and research institutions of ASEAN 10 countries as well as China, Japan and South Korea attended this conference. Beijing Youth Federation, Beijing Volunteer Service Federation was the only participants invited from China.
  On the morning of June 23, Ms. Liu NIAN, Head Delegate of BYF and BVF, delivered a speech naming "Promoting SDGs through Volunteer Service: Experience and Future Steps of Beijing". She emphasized that "Needs and experiences from South Countries on volunteerism must be heard more", which had been widely spread by social medias of UNV.
  The conference arranged visits to local volunteer brand projects and held intensive discussions on south-south cooperation and innovation of volunteerism for SDGs. The delegation from Beijing gave a comprehensive introduction of the experience and development of volunteer service in China. BVF proposed the idea of establishing The Belt and Road International Volunteering Alliance. Participants from other countries showed great interests in future cooperation.
  During the conference, the BVF met with UNV colleagues from headquarters and Asia-Pacific Regional and reported the progress of the third phase collaboration project between UNV, CICETE, BYL and BVF. UNV representatives highly appreciated the work of the Project Management Office in Beijing and the efforts from United Nations Youth Volunteers. Ms. Alexandra Solovieva, Chief Programme Coordinator of UNV wished that China could deploy more volunteers to the UN system in the future.