UNYV Xue Qi Set off for Thailand for Voluntary Service
Date:2018-08-30 Visitors:1398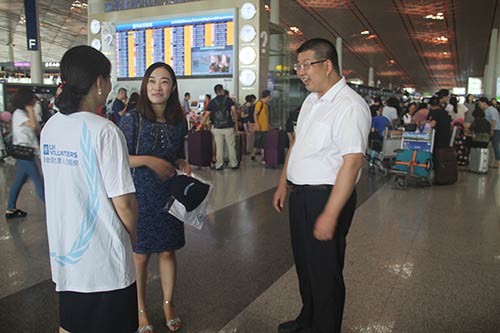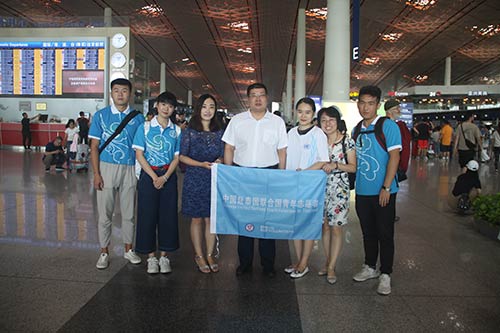 On Sunday, August 5, 2018, Mr. Li Jian, Secretary-General of Beijing Volunteer Service Federation and Ms. Zhang Nan, Director of UNV China Office, sent Ms. Xue Qi off, the international UN Youth volunteer to Thailand, at Beijing Capital International Airport .The project aims to support local economic and social development, promoting cultural exchanges among international volunteers.
  In the morning, 2018 UN youth volunteer Xue Qi officially leaved for Bangkok, Thailand, for her half-a-year voluntary service. Ms. Zhang Nan, Director of the China Office of UNV, Mr. Li Jian, secretary-general of Beijing Volunteer Service Federation (BVF) and officials from the international department sent her off at the airport. During her service in Bangkok, she will support academic research activities carried out by UNDP's Asia-Pacific headquarter. She will also contact relevant local academic organizations, summarizing practical experience of the United Nations in the process of achieving the global sustainable development goals. At the same time, volunteers' operation model in the United Nations system will be combined to provide expatriate experience for Beijing volunteers.
  Mr. Li Jian and Ms. Zhang Nan shook hands with Xue Qi and expressed their concern, urging her to take care of herself during the service, acquire working experience of the United Nations system, and demonstrate the sense of international responsibility of China's outstanding youth. They expressed their care and took photos together.
  Xue is a candidate in the second patch of Chinese UN Youth Volunteer project, which was launched in Dec 2017. In Jan 2018, duty countries and assignments were confirmed. After the initiation of volunteer recruitment in Feb 2018, Beijing Youth League(BYL) and BVF received 13 applications recommended by governmental and non-governmental organizations. Through a series of interviews conducted by BVF recruitment team and UNV headquarter, as well as scrutinized by BYL, BVF shortlisted 3 candidates in May – Mr. Li Hanchi, Ms. Xue Qi and Ms. Guo Lei – who are deployed respectively to UNDP Thailand, UNV Cambodia and UN-Habitat Kenya to engage in local knowledge production, IT support and management of youth development project for 6 months.
  As BYL and project management required, a few days ago the three candidates accepted 7-day pre-departure training and experienced 1 month internship at BVF office. They have acquired in-depth knowledge centering on volunteerism, assistance system of international development, basic skills, multicultural exchange, discipline and requirements for foreign affairs.
  Sending Chinese UN youth volunteers to UN agencies along the Belt and Road regions is a part of collaborative project among UNV, CICETE, BYL and BVF. The deployment has also gained strong support from China NGO Network for International Exchanges and Office Foreign Affairs of Beijing Municipality. The project creates a significant platform for Beijing to cultivate international young talents and to explore an innovative avenue to volunteer overseas, which dramatically promotes internationalization of Beijing volunteerism development. In the near future, BVF will keep on selecting volunteers to serve along the BRI regions and contribute to building Beijing International Exchange Center.